Get Healthy and Lose Weight with Abington Personal Training
Exercise is essential to weight loss and well being. But if you've never worked o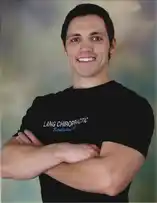 ut before or are recovering from an injury, knowing where to get started can be a challenge. Abington personal training at LC Wellness Center makes it easy to start working out and get healthy. By working closely with our chiropractor, our personal trainer John Grim ensures that each exercise program is specifically tailored to a client's individual injury, weight loss, and wellness needs.
Abington Personal Training Helps You Lose Weight and Safely Recover from Injury
Abington personal training is a natural complement to our holistic treatments and wellness offerings, including chiropractic adjustments, massage therapy, nutritional counseling, and The Egoscue Method®. The goal with all of the treatments at our wellness center is to correct the underlying cause of pain and injury. By improving flexibility, balance, posture and motion, we can strengthen the entire body and musculoskeletal system.
If you are recovering from an injury or managing chronic pain, exercising for the first time can be intimidating. The last thing you want to do is re-injury your body or aggravate your pain. That's why our Personal Trainer and Fitness Specialist, works closely with our chiropractor, Dr. Janet Lang, to design a fitness program that safely helps you strengthen your body without the risk of re-injury or pain. We may also integrate physiotherapy exercises to help improve your range of movement, balance, and flexibility for an injured body part. Corrective exercises are an essential part of recovery. By retraining muscle memory, we can correct improper body movements and prevent future injury.
If you have struggled to lose weight in the past, it is natural to be frustrated when programs promise big results but leave you weighing more than when you started. Many "quick fix" diets deprive the body of vital nutrients, sending it into starvation mode, and causing your metabolism to behave improperly. As soon as you stop the diet, your body immediately stores everything as fat, leading to weight gain.
Our nutrition counseling program works because we don't rely on a "quick fix" for unrealistic, instantaneous results. Instead, we achieve long-term, sustainable weight loss through balanced nutrition and physical exercises. John will create a customized exercise program for you that helps you burn fat while building lean muscle mass. The right balance of cardio, weight training and core strengthening will help you reset your metabolism and build a healthy body.
Each exercise program is designed to build a stronger spine, which is a powerful foundation for fighting disease, illness, injury, and fatigue. With a strong spine comes positive body awareness and the recognition that your body is a gift to be loved. By teaching balance and control of our body through physical exercise, many of our patients also find that these lessons provide guidance in all aspects of their lives.
Our wellness center features state-of-the art equipment for cardio, strength training, and core exercises. Each session with John lasts between 60 and 90 minutes, and meets in the private exercise studio at our wellness center.
Ready to get active, lose weight, and build a stronger body? Contact our wellness center today at (215) 884-9600!