Abington Chiropractic Wellness Center Physiotherapy Speeds Healing
Lang Chiropractic provides physiotherapy services to our valued wellness center clients in the Abington, Glenside, Meadowbrook, Roslyn and all the greater Eastern Montgomery County communities. As a chiropractor, Dr. Lang is committed to identifying the underlying causes of pain and partnering with you to resolve them. As part of any fully-customized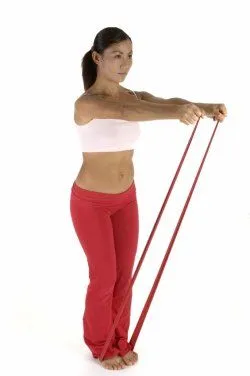 treatment program, Dr. Lang will employ a number of physiotherapy treatments. Physiotherapy treatments with a chiropractor may include corrective exercises, Anodyne Therapy, Mechanical Traction, Cryotherapy, Moist Heat Therapy, and Work Hardening Rehabilitation Programs.

Corrective exercises can strengthen supporting tissues to hold ideal spinal and joint alignments. Our chiropractor teaches patients uniquely designed exercises that can be performed at home to improve the effectiveness of your spinal correction by as much as 30-40%.

Anodyne therapy is a form of deep heat infra-red treatment our chiropractor uses on soft tissues and joints to reduce swelling and pain. These relaxing treatments can speed healing in soft tissues that are damaged from automobile accidents and repetitive stress injuries.
Electrical Stimulation which uses an electrical current to help strengthen the muscles and increase blood supply to the area, therefore assisting in healing.

Mechanical traction uses a variety of devices to relieve pressure between vertebrae to reduce or eliminate patient pain. It is also used to stabilize injured areas to prevent further damage when supporting muscles, tendons and ligaments in a damaged area cannot adequately stabilize the injury until some healing occurs. Traction can provide the additional support your body needs.

Cryotherapy (cold therapy) treats inflammation and swelling with cold to reduce pain and return tissues to more normal function while Moist Heat Therapy can aid heat penetration into the muscles and soft tissues. Moist heat therapy includes treatments like hot towels and hot stones, hot baths and steam baths. For some Abington clients, moist heat therapy penetrates better and provides better overall pain reduction. We use a full range of moist heat therapy techniques in our wellness center.

Work hardening rehabilitation programs help patients improve functional performance through focused work function exercises. The goal of work hardening is to give clients functional physical practice, a little bit like an athlete practices correct form for common physical actions. By practicing correct form for common work tasks, clients can improve performance and reduce risk of soft tissue damage due to repetitive stress from incorrect form.

Our sporty Abington residents will appreciate our sports rehab services to get them up and running, jumping, riding and playing as hard as they work. With a full personal training facility at our disposal, our treatments will help you heal quickly and stay on your training schedule. Our physiotherapy treatments will increase blood flow to healing tissues, reduce swelling and relieve pain safely for lasting strength, flexibility and endurance.
Visit Our Chiropractic Wellness Center for Your Health and Beyond
Our chiropractic wellness center provides a pathway for you to take your health and well-being to the next level. We offer a full complement of Standard Process Vitamins and Herbal products that feed your body the fuel you need to build a strong and healthy body. For our clients interested in getting leaner, we offer Metagenics weight loss products and supplements that, in conjunction with healthy eating and prescribed exercises, will help you drop those extra pounds and get as lean as you want to be and stay that way.

At Lang Chiropractic, we're here to provide our Abington clients with great chiropractic treatments and a calm and welcoming wellness environment to help them on their way to optimum health. Call us today at (215) 884-9600.