Local Chiropractor Celebrating 25+ Years in Jenkintown/Abington Area
Dr. Janet Lang Monahan's Jenkintown Story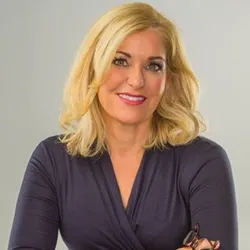 Dr. Janet Lang's story begins in 1995, during the year of the worst ice storm in the history of the Philadelphia area. Her mentor, Dr. Edwin Zerrer, had been practicing chiropractic in the Abington/Jenkintown area for twelve years. He had established one of the oldest chiropractic practices in this area- a real pioneer. But then Dr. Zerrer was diagnosed with Lyme disease. Due to the crippling effects of the Lyme disease, he was finding it extremely difficult to give his patients his best care. Enter Dr. Janet Lang. Dr. Lang had graduated from Chiropractic school (Magna Cum Laude) in December of 1994 from the Pennsylvania College of Straight Chiropractic. She had received her under graduate degree from the University of Massachusetts in pre-med and exercise physiology and was living in her hometown, Boston, waiting to take the State board exam. Dr. Zerrer and Dr. Lang had met while Dr. Lang was still attending chiropractic school. She had heard of his impeccable reputation and wanted to learn from the best that chiropractic care had to offer this area. She interned with Dr. Zerrer for two and a half years out of four and a half years during her chiropractic education.
Dr. Lang still remembers the telephone call she received in December of 1995 from Dr. Zerrer. He didn't sound like the same person that she had known. He sounded very tired, worried, and overworked. He asked for her help. He said he no longer had the physical stamina to keep up with his patient practice and asked if she would agree to assist him for a couple of months while he got stronger and recovered. Two days later she was packed and traveling to this area in her grandfather's canary yellow 1969 Mustang with only a suitcase to her name.
The first day that she was scheduled to work for Dr. Zerrer she was so nervous she spent the day in bed throwing up. She did make it to the office the following day, and as she walked in, Dr. Zerrer walked out, and sadly, we never practiced together again. That was the last time he was able to practice chiropractic in Jenkintown. His disease had left him with permanent neurological symptoms. He was unable to add up a list of numbers that we take for granted everyday. When he had first acquired Lyme disease, it had paralyzed the left side of his face in a Bell's palsy, and he dropped approximately thirty pounds. He would be driving himself home to Stocton, New Jersey, from Jenkintown and not realize where he was, and his wife would have to go and pick him up. He was experiencing such severe joint and stomach pain that he was crippled, and to see a grown man cry before her eyes was devastating to Dr. Lang.
The first day of her work in Jenkintown quickly turned into six months. After six months, Dr. Zerrer asked her if she would continue for the following year. After the year was up, Dr. Zerrer asked her if she would consider buying the practice. So she did. For the next four years, because Dr. Zerrer was unable to work, the staff and Dr. Lang supported Dr. Zerrer's family.
Dr. Lang credits Dr. Zerrer for teaching her that the most important qualities of a successful practice are to give superior chiropractic service, and that means the patient's care comes first. If you provide exceptional care patients tell friends and family and the practice will grow.
Dr. Lang's post-graduate studies continued in neurology, extremity adjustments, and pediatric care. She continued learning the latest in research-proven chiropractic. "I brought everything that I had to this practice and the practice subsequently did grow. In fact, it grew at such a rate that I had to employ three staff members early on: Laurie Weaver, who acted as my front desk person/office manager, Joan McCall, reception desk, and Leo, a massage therapist. Twenty years later our staff has grown to over thirteen people: Dr. Michael Predigger who joined the practice in 2007, Dr. Frank Lictner who joined in 2010, Dr James Applegate who joined in 2011. Donna Kelly, office manager, Heather Kuhner, Christine Fatzinger and Amanda Lohmiller front desk receptionists. Our Massage Therapists include: Pam Orr, Linda Crocker, Chistine Fatzinger, Jan Klemmer and Wanjiko Harling. Our Shiatsu Therapist is Bonnie McDairmant . John Grim and Kathyrn Venini are our rehab/fitness specialist.
Today, Dr. Zerrer is able to practice, part time, out in Colorado. His family is happy and healthy and Dr. Zerrer is doing well, and in the past year Lang Chiropractic has expanded its hours and Dr. Lang is now celebrating her 20th anniversary practicing in Abington/Jenkintown.
"I am happy to say that the time that I spend in Jenkintown at my practice has truly been the best time of my life. I owe it all to Dr. Zerrer and I don't know what path my life might have taken if I hadn't returned to Jenkintown. I love my work and I can't imagine doing anything else, and I hope that I never have to find out."
Dr. Lang got into chiropractic because of her commitment to exercise, good nutrition and the art of natural healing, and also making people feel better. When Dr. Lang was eighteen and in college she met a chiropractor and within five minutes of listening to her explain about helping patients naturally without medication with a hands-on technique, that was it! Dr. Lang had been an art major her first semester before she changed to pre-med. Her mother, Betty Lang, is an accomplished artist and her father, a physicist, making her a perfect candidate for chiropractic. Having a science, art, and philosophy background with healthy natural living.