Abington Massage Therapy Provides Natural Pain Relief
For centuries, massage therapy has relieved pain, reduced stress and elevated moo
ds. Now you too can enjoy this natural treatment. At LC Wellness & Spa by Lang Chiropractic, our licensed massage therapists use their gift of touch to enhance wellness and naturally relieve pain. Our Abington massage therapists serve the Glenside, Meadowbrook, Roslyn, and the greater Eastern Montgomery County.
SWEDISH MASSAGE 30,60, or 90 min therapy $50/80/110
Achieve a peaceful, relaxed state with classic Swedish style strokes of light to moderate pressure that increases circulation and relieves muscular tension. This technique of smooth fluid strokes is used for the benefit of relaxation. With the increase of blood circulation, this massage will leave you both calm and relieved.
30, 60, or 90 minute therapy $50/80/110
INTENSIVE DEEP TISSUE MASSAGE
This technique is not just about relaxation; it is for the person who requires a more intensive massage. Deep tissue and trigger point therapy will help with your chronic muscle tension and relieve even the deepest layers of muscle tissue and fascia. This massage offers relief from tight, "knotted," sore muscles.
30, 60, or 90 minute therapy $50/80/110
PREGNANCY MASSAGE
What a beautiful gift to your baby and yourself - the gift of touch! Customized massage to indulge, renew and relieve the demands put upon the body during pregnancy. Specifically placed support cushions are used in this service to protect both mom and baby - for second and third trimesters only.
TRIGGER POINT THERAPY
This technique is based on the application of manual pressure to sensitive spots called trigger points. Trigger points can be caused by any trauma at any age including accidents and sport injuries, as well as any repetitive action connected with an occupation or hobby.
30 or 60 minute therapy $50/80
REFLEXOLOGY
This technique of applying pressure to specific points on the hands and feet will promote healing and health. By unblocking the reflexes and allowing blood (containing oxygen and nutrition) to flow through, your body will be equipped to function at peak efficiency.
30 or 60 minute therapy $50/80
SHIATSU THERAPY
This relaxing Japanese acupressure treatment that uses a combination of firm contact, stretching, and long gliding strokes combined with the benefits of the aroma therapy of your choice. Since no massage oils are used shiatsu can be performed through loose attire, on a massage table or a comfortable floor cushion. Translated "finger pressure," Shiatsu is the Oriental medicine responsible for creating good health for centuries. This pressure point massage encourages the body to activate its own healing ability.
30, 60, or 90 minute therapy $50/80/110
HOT STONE MASSAGE
The simplest tools -- transformed in the hand of the therapist. Chosen for their temperature retentive qualities, natural stones can enhance your body massage with hot or cold therapy. The heat within the stones helps penetrate deeper into your muscle tissue, inducing deep relaxation and releasing unwelcome toxins and the cool stones to soothe for an absolutely exquisite and unforgettable head to toe experience.
NEW MOM - TONING AND FIRMING MASSAGE 30 or 60 minute therapy
$50/80
A powerful and energizing treatment to hydrate and firm the skin so as to reduce stretch marks, as well as restoring tone and structure to body tissue -- begin after cessation of breastfeeding.This technique helps balance, energizes, relaxes and detoxifies the body's lymphatic and electrical systems. This exceptional Aromasoul massage uses a combination of 9 purest essential oils and offers a unique and restoring experience for one's body and soul.The Therapist combines massage, acupressure and aroma therapy to give you an experience you will not soon forget. Essential oils have been used for centuries for there healing and profound affect on the body's health and now you can enjoy this wonderful ancient therapy.
STRESS RELIEF CHAIR MASSAGE 15 or 30 minute therapy $30/50
Rejuvenate yourself with a concentrated massage focused specifically on your neck, back and shoulders. It will melt away the tension and relieve the stress.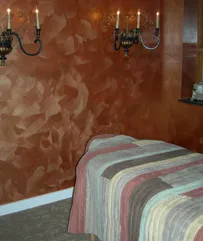 Abington Chiropractor Partners with Massage Therapists for Whole Body Wellness
During a massage treatment, important physiological changes occur in the body. Your heart rate and breathing rate decrease, and the levels of cortisol, a stress hormone, also drop as endorphin levels rise. This deep breathing and elevated mood helps center the mind for healing and relaxation. At the same time, the act of massaging muscle tissue enhances the flow of fresh, oxygenated blood. This helps flush out toxins and lactic acid that naturally build up over time and block the body's ability to heal.

At LC Wellness & Spa, our different massage styles address a wide variety of wellness needs. Swedish massage uses light to moderate strokes to enhance circulation and relieve tension. This massage style promotes internal healing through the flow of fresh, oxygenated blood while helping the mind relax. For relaxation, stress management, and enhanced well being, many of our patients chose shiatsu massage, which combines Japanese acupuncture with stretching and gliding movements along with aromatherapy. We also offer an "East Meets West" combination of Swedish and shiatsu massage.

If you are struggling with chronic pain, a deep tissue or trigger point massage can provide much needed relief. Deep tissue massage focuses on severe muscle tension in the muscle below the superficial layer. Our massage therapist applies intense, targeted pressure to release tight, knotted tissues. Trigger point massage uses a similar, targeted approach to stimulate trigger points in the body that correspond with sources of muscular pain and headaches. Both deep tissue and trigger point massage can speed healing following a sports injury or personal injury while providing natural pain relief.

Our reflexology massages focus on specific points in the hands and feet to promote health. These points correspond to well being in organs throughout the body. Benefits include improved circulation and detoxification, as well as natural relief for back pain, migraines, and arthritis.

During pregnancy, hormone fluctuations and physical changes in your pelvis can lead to intense pain and strain on the body. Our pregnancy massage, designed for expectant mothers in their second and third trimesters, offers the gift of touch to relax and revitalize the body while relieving pain.

Do you find yourself frequently ill with earaches or sinus infections? Massage therapy, combined with holistic treatments, can provide relief and even reduce the risk of future illness. Our therapists offers ear candling, which is a natural way to remove wax and debris from inside the ear. You'll feel a gentle warmth in your ears as the candle creates a vacuum that clears out debris, while enjoying a relaxing shoulder massage. A forehead rub and head massage, along with reflexology massages, can also provide relief from sinus pain and naturally promote lymphatic drainage.

If you are receiving chiropractic treatments, massage therapy is a natural complement that can enhance your adjustments and speed recovery from an injury. Our chiropractor will work closely with your massage therapist to design a program targeted to your specific injury recovery needs.

Our four certified Abington massage therapists work closely with our chiropractor to provide a wide variety of massage treatments for patients. From pain relief and a pregnancy massage to natural healing and enhanced wellness, let us help you unlock the benefits of massage therapy today!
Call us at (215) 884-9600 to schedule a massage.